Smokeless Muzzle Loaders:
A custom smokeless powder muzzle loader with
-Finesse-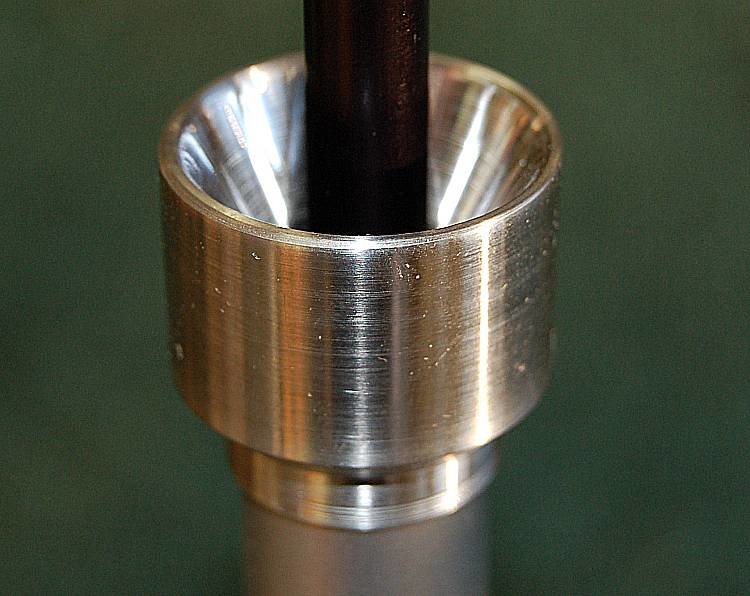 Shows the combination funnel/ramrod guide in place. This tool is designed to protect the rifling and crown from the ramrod when seating the bullet. You would not file away at your center-fire crown with a cleaning rod........would you? Muzzle crowns are very critical to accuracy.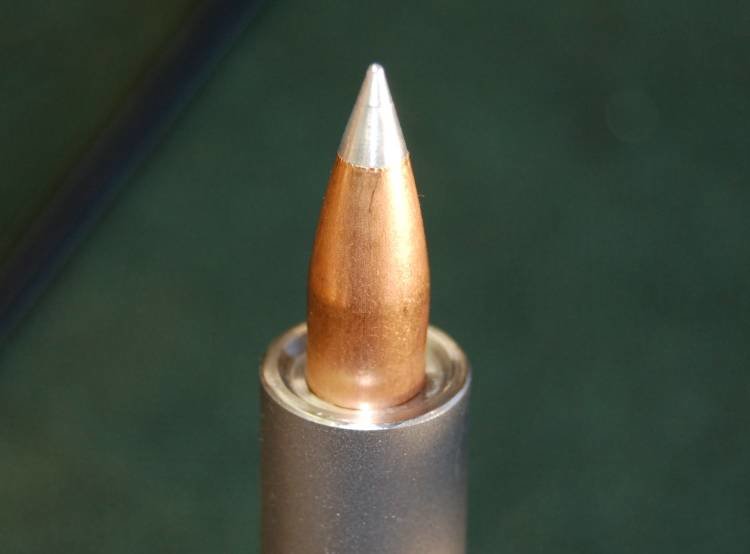 Here is the all new Parker 325 grain bullet he designed for big game. It is re-sized in the swagger to fit the bore for ease of loading and tight enough to stay on top of the powder charge. A perfectly re-sized bullet is very critical to the extreme accuracy these rifles deliver. We do use a felt Wonder wad over the powder charge with these 325 grain bullets. We DO NOT use the wads with the 250 grain bullet.
A thank-you is due to Bob Parker in Idaho for making these bullets. Without them we would not be building muzzle loaders.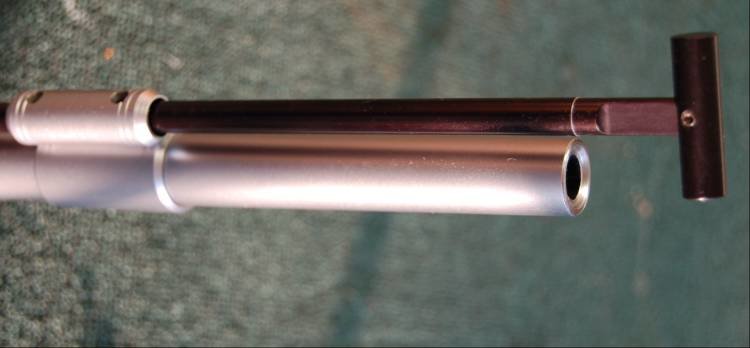 Shows the Thompson Center Universal Power rod with the T-handle, included with each rifle.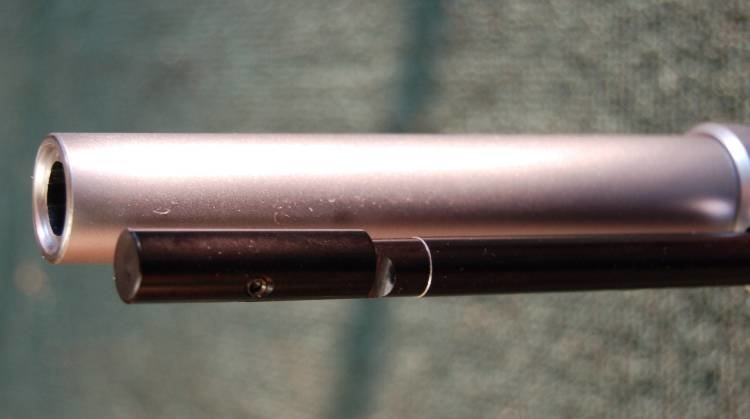 The ramrod is held in the rifle by means of a 10-32 bolt threaded into the front of the recoil lug. The jag is bored and tapped so that the ramrod is merely screwed onto the 10-32 bolt. You will never loose your ramrod nor will it ever protrude from the rifle when it is fired.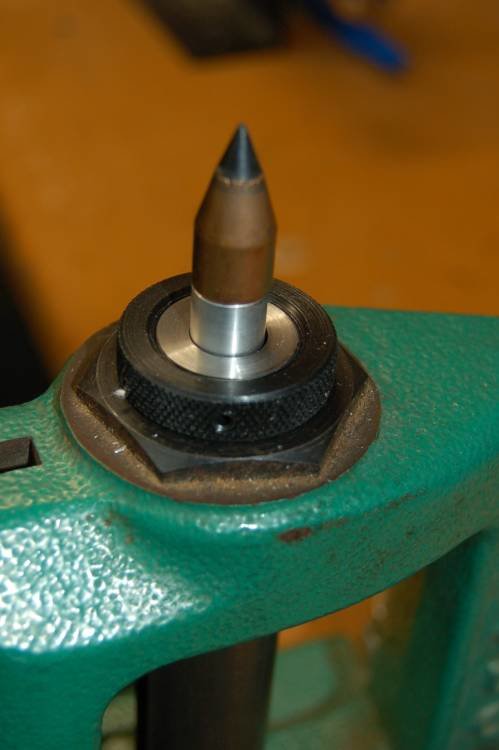 Last but not least is the carefully made swagger. It is screwed into your press and the included stem is fitted into the shell holder. Each bullet is pushed up thru the swagger for a perfect fit to your individual bore diameter. The pic shows the stem protruding thru the swagger.
Below is a picture of Bob Parkers new smokeless powder muzzle loader bullet
This bullet is designed of tougher materials for large game such as Elk and Moose.
We have shot this bullet in several different rifles and it is performing well. 500 yd groups are about 5" and it is 20" flatter at that range due to the higher B.C.
We are loading 73 grains of IMR 4198 for this 325 grain bullet which produces around 2800 FPS in a 30" barrel. We also found they are more accurate using the felt Wonder wad over the powder.
The 2 bullets on the left are the Parker 275 grain Ballistic Extreme and the 2 on the right is Bobs new higher BC 325 grain bullet
Bob Parker
phone 208-596-8430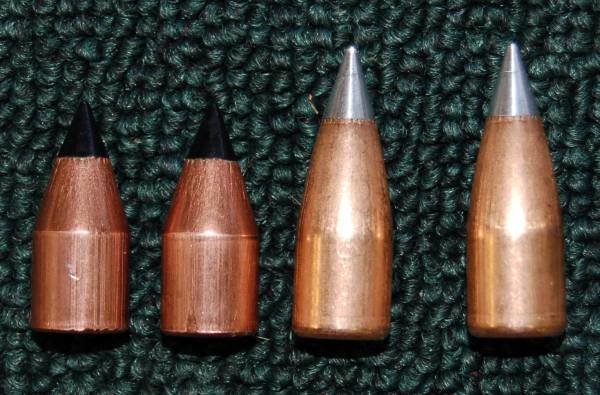 All muzzle loaders have Jewel triggers and Krieger 1-20 twist 30" inch barrels
Shown below is a 400 Meter target shot by Robert Brewington with his smokeless powder muzzle-loader
group under 1 1/2" at 400 meters
Roberts rifle is # 3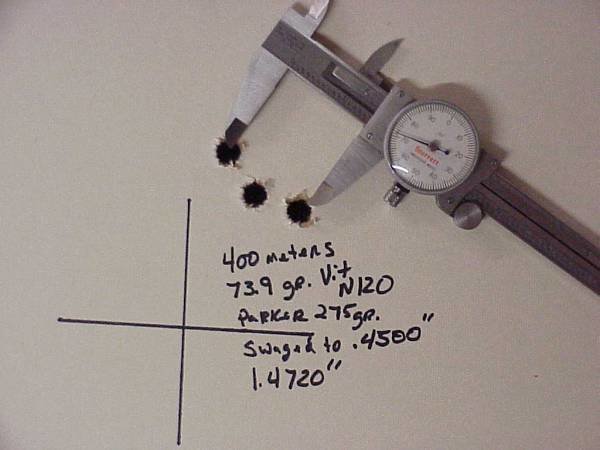 400 meter group shot by Robert Brewington
These rifles will hold 1 MOA to over 500 yards
Smokeless powder muzzle loaders
One MOA to 400+ yards
275 grain Parker bullet at 3000 FPS
325 grain Parker bullet at 2800 FPS
If you want to shoot varmints or Deer at 400 plus yards, then this is the muzzle loader for you
All pictured rifles & wood stocks built by Richard Franklin
See these muzzleloaders in action shooting long range Groundhogs
in our Video "MUZZLELOADERS & GROUNDHOGS" on our video page




















See these smokeless muzzle loaders in action. My Video entitled
"MUZZLE LOADERS & GROUNDHOGS" was filmed on a full summer of
of shooting Groundhogs and culling Deer with these rifles.
Some awesome 400 to 500 yard shots
_________
Instruction video on "How to build a smokeless powder Muzzle loader"
This video shows every detail in how to build you own muzzle loader from A to Z
My Book " A Rifle Smith's Handbook" also contains all information on the building of this smokeless powder muzzle loader
Many thanks for visiting our site
Richard has filmed a 2 dvd 4 hour video on how to build one of these muzzle-loaders. Go to our videos for sale page to purchase.
NOTES:
Ultimate Varmint Rifles / Benchrest Rifles / Long Range Rifles / Stocks / Tactical Rifles /
Silhouette Rifles / Hunting Rifles / Custom Rifle Stocks / Custom Smokeless powder Muzzleloaders/Gunsmithing Videos/Groundhog Hunting Videos